Do you know these 7 Extremely Useful Betting Websites?
There are a lot of websites out there on betting and it is easy to miss the good ones. Here are 7 betting related websites you should know about if you don't already.
WhoScored – Live Scores, Extensive Match Statistics and Fixture Details
https://www.whoscored.com/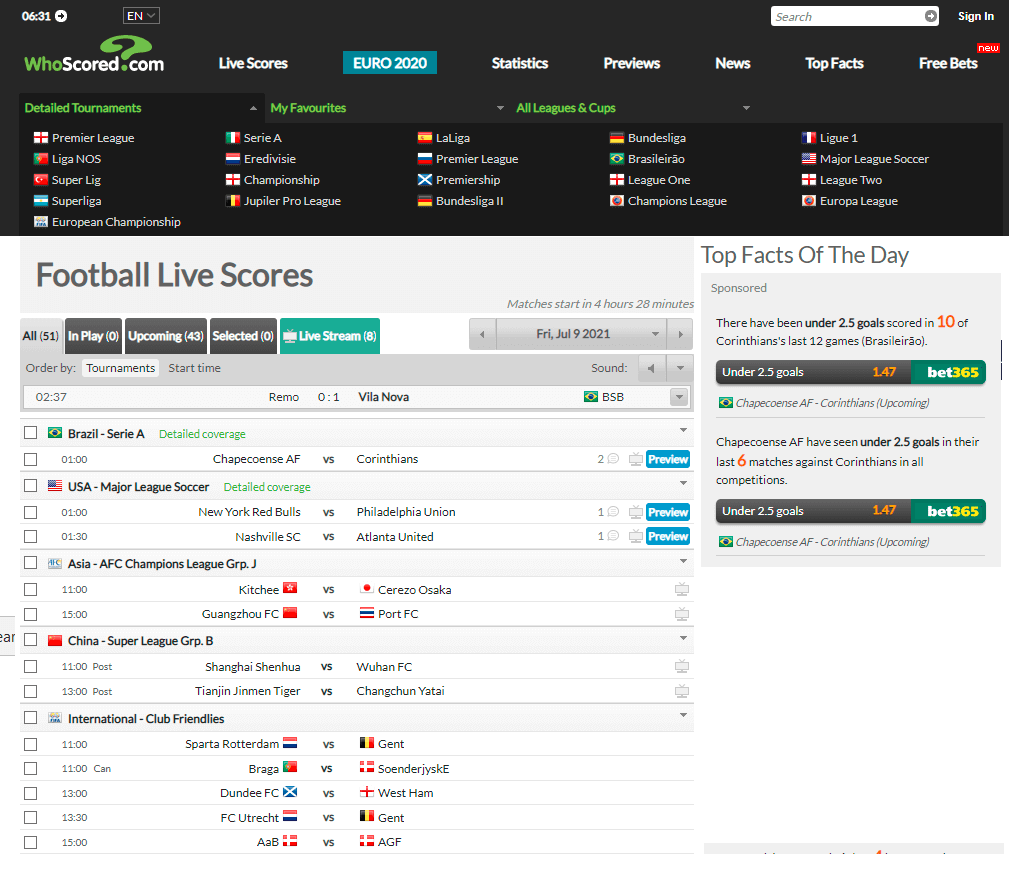 There are many football websites with live score information, fixture details and so on out there, but this website is the best of all of them in our opinion.
It is a partner site of Bet365.com and so has a very wide range of football matches, statistics and live feeds to matches (over 40,000 live streams per year so they claim). To be able to view live feeds, you do need a Bet365 account that is funded, but you can even just leave 5 cents in your account and you will be able to view their live streams any time you like. While it does not show the English Premier League, this is very useful when you are following a match and are considering placing extra bets depending on the in-play stats and also watching to get a good sense of the game.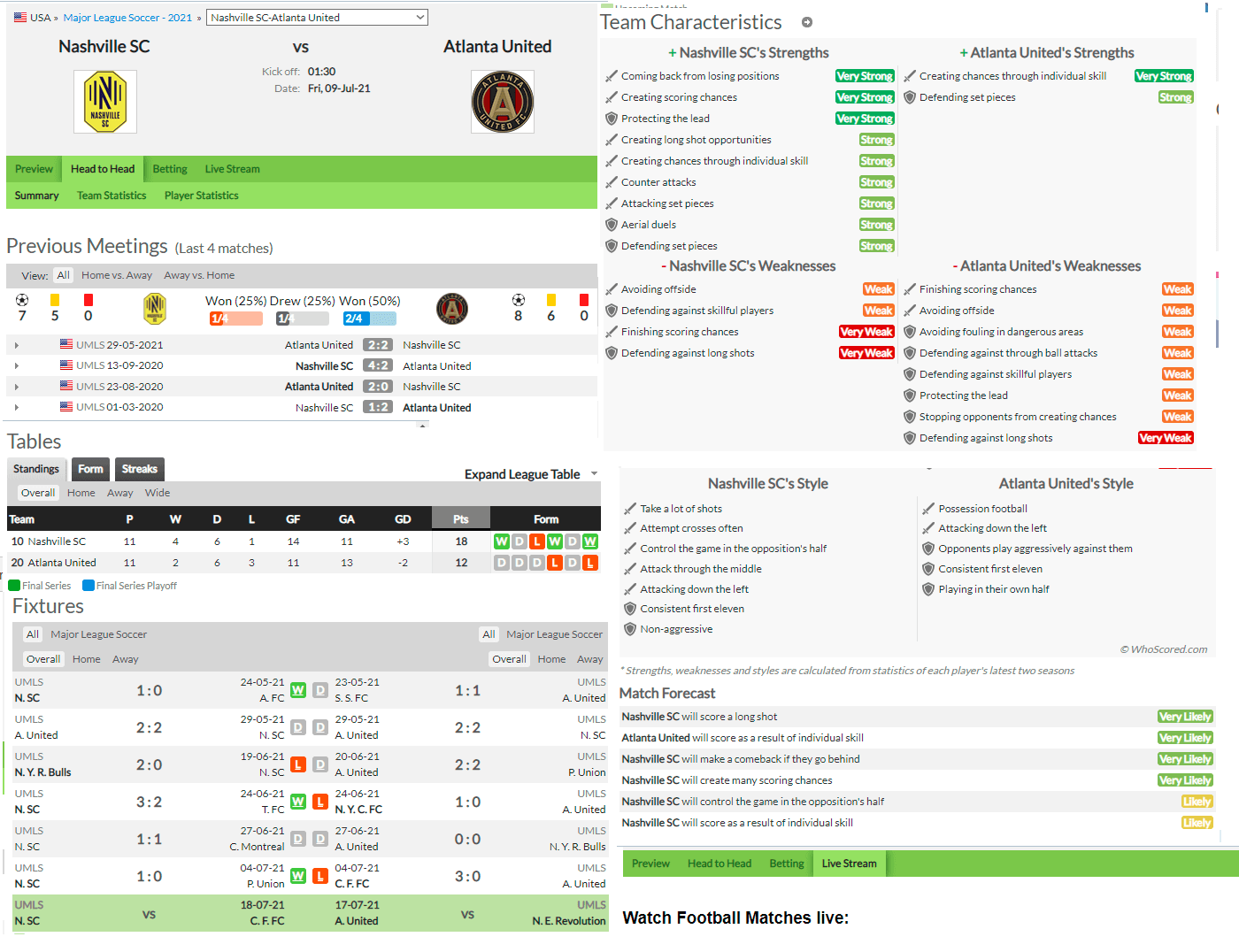 The match previews are very thorough and they convert statistical data into easy to understand summaries that highlight the strengths and weaknesses of each team. It also hints at statistically likely events that may happen in the match.
Football Data – Historical Football Results and Betting Odds Data
https://www.football-data.co.uk/
This website has 27 seasons of results, 20 seasons of betting odds and match stats that are all downloadable and free to access. In addition to livescore, tables and statistics services Football-Data provides computer-ready football results, match statistics and betting odds data for use with spreadsheet applications, to help with the development and analysis of football betting systems. In doing so Football-Data takes the time out of recompiling pages and pages of results data and past betting odds found on a number of football results and odds comparison websites.

In their historical data page you can download each data by country.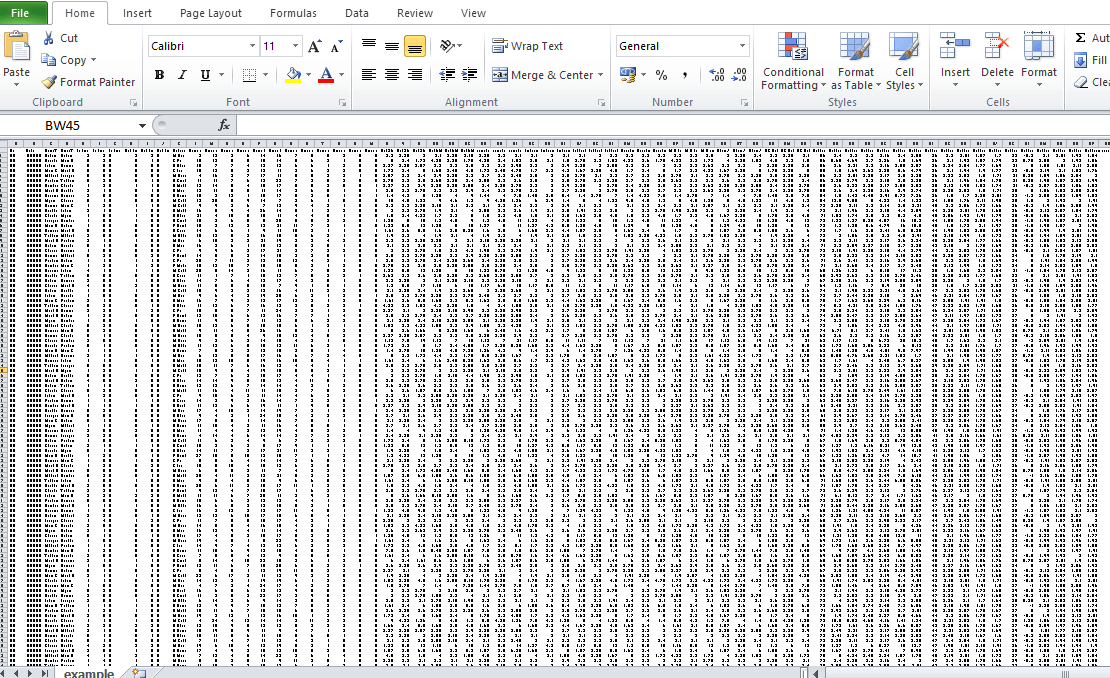 Each file has a very large amount of data that can be used for analysis.
These are the column headers from the above example spreadsheet file. It includes match data such as shots, shots on target, corners and various bookmaker odds that can be used for research.
Betaminic and its Betamin Builder tool and Betlamp statistics service has made the most popular statistics easy to analyse and then create, save and follow big data based strategies that were profitable when backtested against real historical bookmaker odds. Football-data provides more statistics if you want to dive deeper into a league or market anaylsis.
The Value Betting Blog – Useful Articles and Excellent Value Calculator
https://valuebettingblog.com/
Value Betting Articles and Advanced Calculator.
This excellent website is aimed at bettors who are interested in finding value bets. It has articles and information about value betting, but most interestingly it has a very advanced calculator that allows you to plug in the data from a strategy (such as the Betaminic strategies) and you can get some statistics on its strength, i.e. how likely it is that the strategy is based on a pattern or is just a lucky run.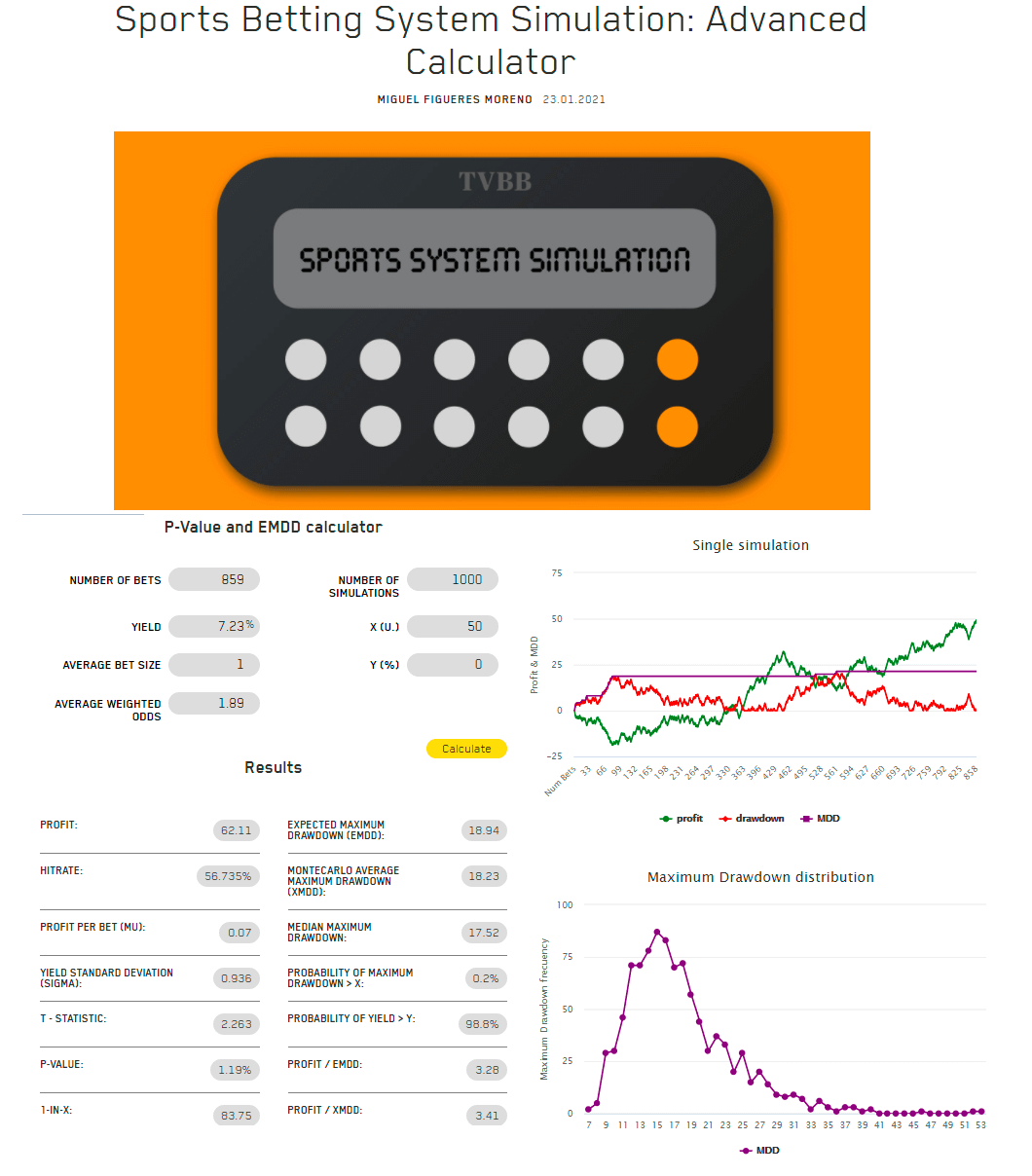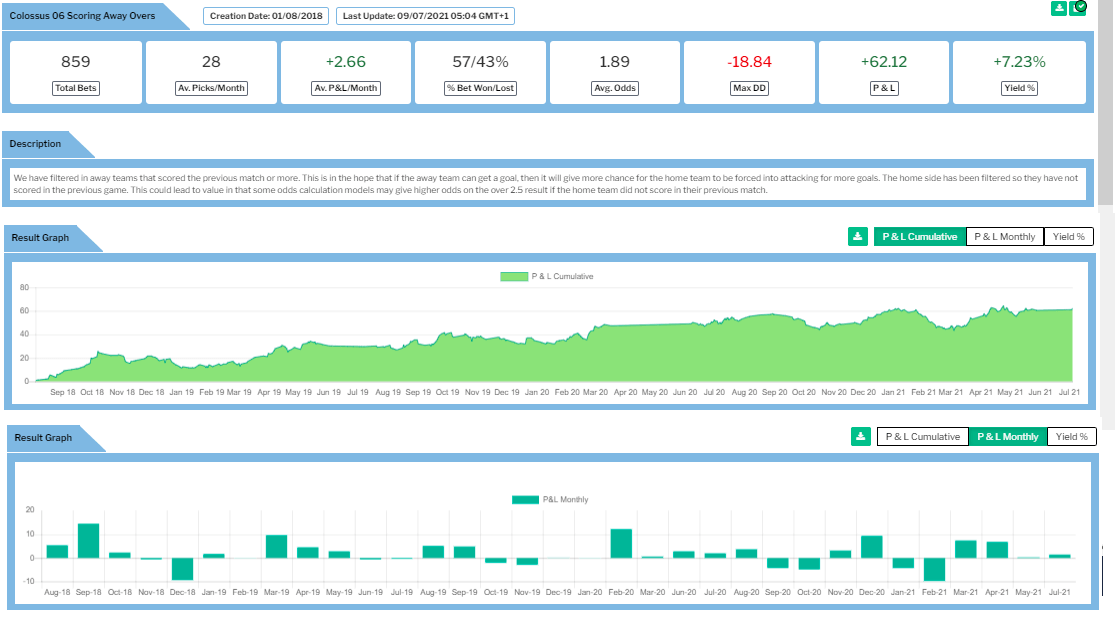 Here we entered the data from the Colossus 06 Scoring Away Overs since shared period to see what results came up. Interestingly, it suggested than the chances of its maximum drawdown of -18 points being reached is 0.2% and the probability of yield being positive being 98.8%. The most important figure is the P-Value. This is the percentage chance of the strategy results coming from simple luck, for the Colossus 06 that is 1.19%, a very low chance. So the calculator suggests this strategy has a very strong pattern. That is no doubt why this strategy is the most popular among Betaminic users and has topped the public strategy for the longest time.
This calculator, the value betting related articles available in both English and Spanish, and also the newsletter "The Simple Science of Profitable Betting" make it a very worthwhile site to visit.
Green All Over Blog Spot – Insightful and Refreshing Betting Blog
http://green-all-over.blogspot.com/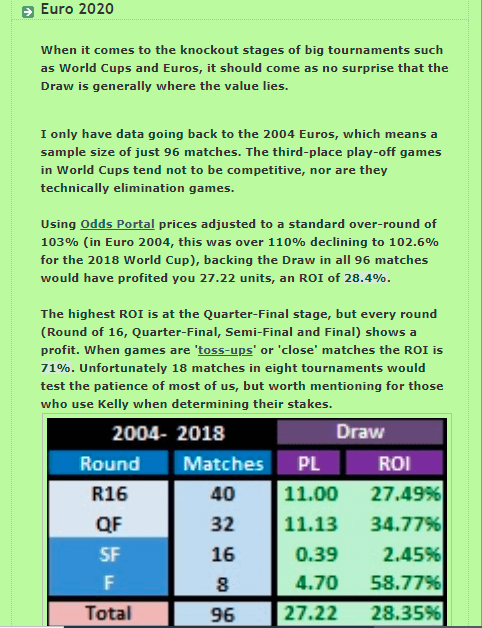 This website is actually an independent blog with a very simple layout, but the insight and quality of the articles make it a good one to subscribe to. He posts betting blogs on many different events, not just football and not just sports. He offers interesting insights into American baseball and ice-hockey. He also writes about financial indexes such as the Dow and S&P500. Beyond that, he also introduces useful books and ideas on various financial investment methods that may help give people ideas when considering how to spread risk through a wide range of investments.
One of his most recent football posts was about backing the draw in knockout competitions such as the Euros or Copa America where backing the draw showed a positive yield since Euro 2004.
Betting Systems Guide – Complete Betting System Guide for Betaminic Strategies
www.bettingsystemsguide.com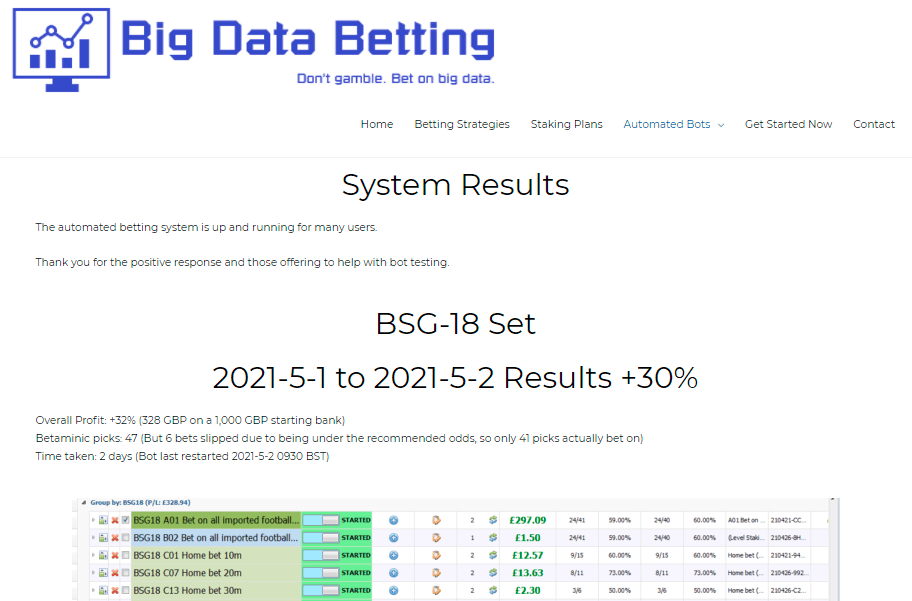 This website is by Tom Whitaker, author of the Betaminic books and other betting books, where he explains his recommended Betaminic betting system. He currently recommends a combination of 18 top ranking Betaminic strategies which he has edited and customized to fit together as one system that uses picks in the most efficient way without overlaps, the BSG-18 (Betting System Guide 18) which is available on the Betaminic Public Strategies page even now.  You can find it by searching for "bsg" in the Search by name feature. His website shows his results, suggested staking plans and advice on how to use the Bf Bot Manager automated betting software to get even more value out of the Betaminic picks with in-play betting strategies.
The Staking Machine – Staking Plan Analysis Software
www.thestakingmachine.com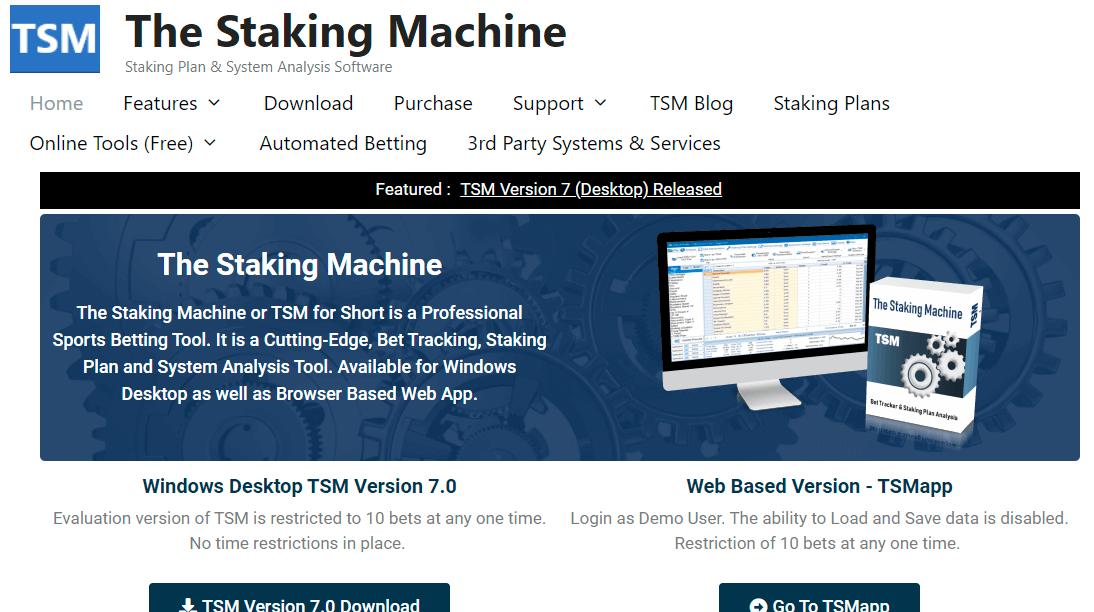 The Staking Machine (TSM) is staking plan analysis software. You can use it with the Betaminic strategy data to analyse what staking plans would  be most effective to use. It is available for Windows Desktop as well as Browser Based Web App.
Even if you do not use the software, the website itself has explanations of many staking plans and two useful calculators, such as the Expected Losing Sequence (ELS) calculator.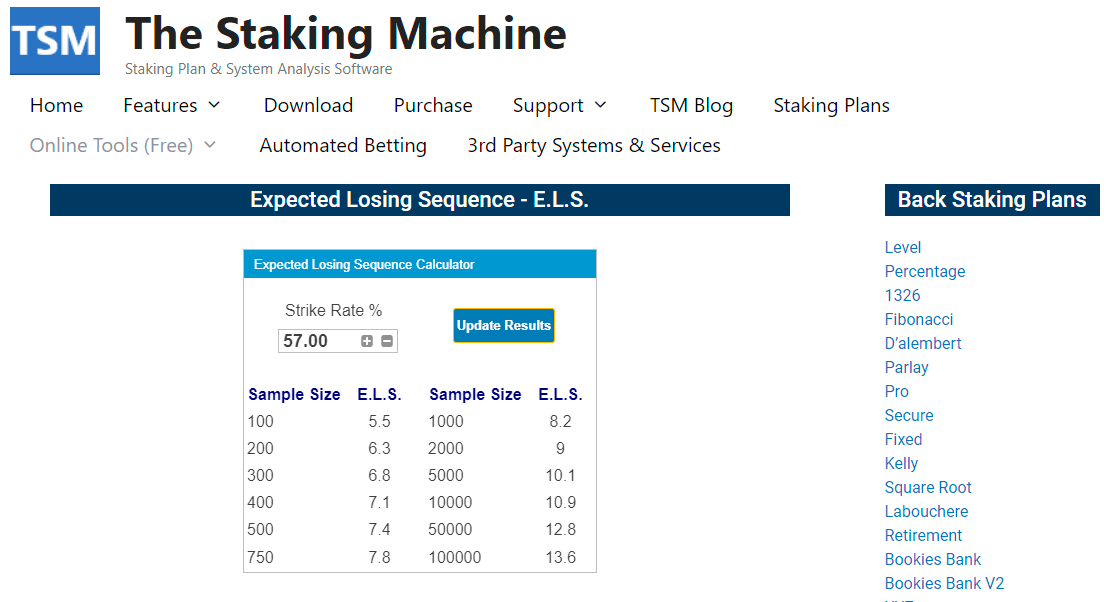 With the ELS, you just need to input the win rate of a strategy and it will give you an expected losing sequence based on the number of bets placed. It shows in an easy to see way how the length of a single losing sequence can be expected to increase with the more bets that are placed. In the example above, we input the 57% win rate of the Colossus 06 Scoring Away Overs and it suggests that the expected longest losing run of consecutive bets would be 9 if we made 2,000 bets. But only 5.5 if we made 100 bets. This can be really useful information for those who use recovery staking plans such as Fibonacci, Pro Staking or Bookies Bank where consecutive losing runs are very damaging.
The Bf Bot Manager – Automated Betting Software
Bf Bot Manager

This is the website for the Bf Bot Manager which is automated betting software that is compatible with your Betaminic account so that picks can be automatically sent to the software and bets placed in accordance with your chosen staking plan and safety rules. You can then also create automated bots that will place bets in-play if those matches have good in-play statistics. You can read more about the Bf Bot Manager-Betaminic integration in this introductory article on how to set it up and this advanced article on staking plans and in-play bots.
Websites, articles and blogs about betting can often spark ideas for new betting strategies. So while you are reading, if you wonder if a strategy suggested by an article would make profit, you can try to backtest a theory in the Betamin Builder to see if it would make profit, and then create, save and follow that strategy, or check out the football statistics in the Betlamp service to setup alerts for future fixtures that follow that idea if it is related to yellow cards, corners betting or other statistics not in the Betamin Builder.
With new seasons of major leagues just weeks away, it is a good time to review your portfolio of strategies and set up your betting plan for August onwards.
Sign Up for free to access the Betamin Builder here.
Access Betlamp, the amazing free statistics tool here.
Read the introductory or advanced automated betting articles
Read tips on how to improve your yellow card betting
Discover 6 free strategies that can be used with Betlamp Football Statstics.
Read more Betaminic posts here.