Betlamp has detailed yellow card statistics. In betting, niche knowledge is your edge. If you have detailed statistics, you can catch out bookmakers who have mispriced the market. The more minor the market, the more chance you have of getting ahead. Yellow cards betting is one such niche market.
For major markets, bookmakers usually calculate opening odds based on their models, and then compare their odds to other bookmakers as a quick check that that their odds are not incorrect and much higher than others have calculated. After they publish their odds, bookmakers adjust their odds as bets come in. If the market (the betting public) judge the odds to be good value, they will bet more than usual on those odds, and bookmakers will reduce their odds to avoid having too much liability on one outcome. In this way the odds move towards what the market believes is fair. This is much easier for bookmakers to do for major markets such as English Premier League Match Odds where there are hundreds of bookmakers and odds are easy to compare. But in a competitive market, bookmakers also try to offer less common markets in an attempt to get more customers. Yellow card betting is one such market. The one drawback for them is that there are not as many bookmakers to compare odds with in this market, and so it is easier for them to make mistakes in their yellow card odds calculations. Betlamp has detailed statistics on yellow card markets to take advantage of this for such betting.
Betlamp's Unique Alert Format for Yellow Card Betting
Betlamp is unique because it shows yellow card data by upcoming fixtures. You can see instantly the average number of fixtures which were over/under a certain number of cards for each team and the number of matches those figures are based on. By clicking on column headers to rank the data by the desired value, it is very easy to see the teams with the highest cards in games. If the bookmaker odds seem mismatched to this data, then it can be a value bet.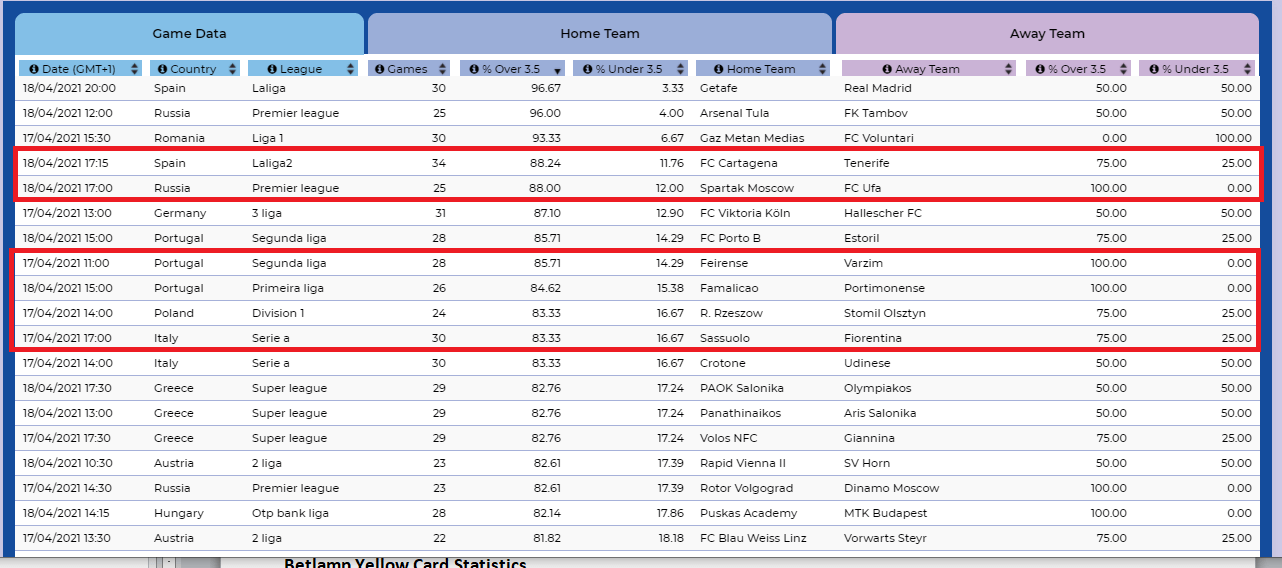 Saving Time with Advanced Filters and Email Alerts
You can use advanced filters to view only the fixtures that you want. For example, only fixtures where we have 10 or more games worth of data and only fixtures where the home team both have over 100% history of overs in the card market we are looking at. You can then have those upcoming fixtures emailed to you as they are found by becoming a Betlamp Premium user.
With card betting, it is often said that recent match performance can be more important than season performance. Teams go on runs of distempered, disjointed matches where they pick up many cards. After too many players get fined, the manager clamps down on discipline and tries to reduce the fouls being conceded. And as players get suspended after picking up too many cards, those players are replaced by different players who may not be as aggressive as the one they replace. So looking at the last 4 matches can be good. There are a large number of fixtures available, and it takes times to look through them. With Betlamp, we can filter to see exactly what we want, home teams that have been involved in over 3.5 cards per game in 100% of their last 4 games. The settings would look like this.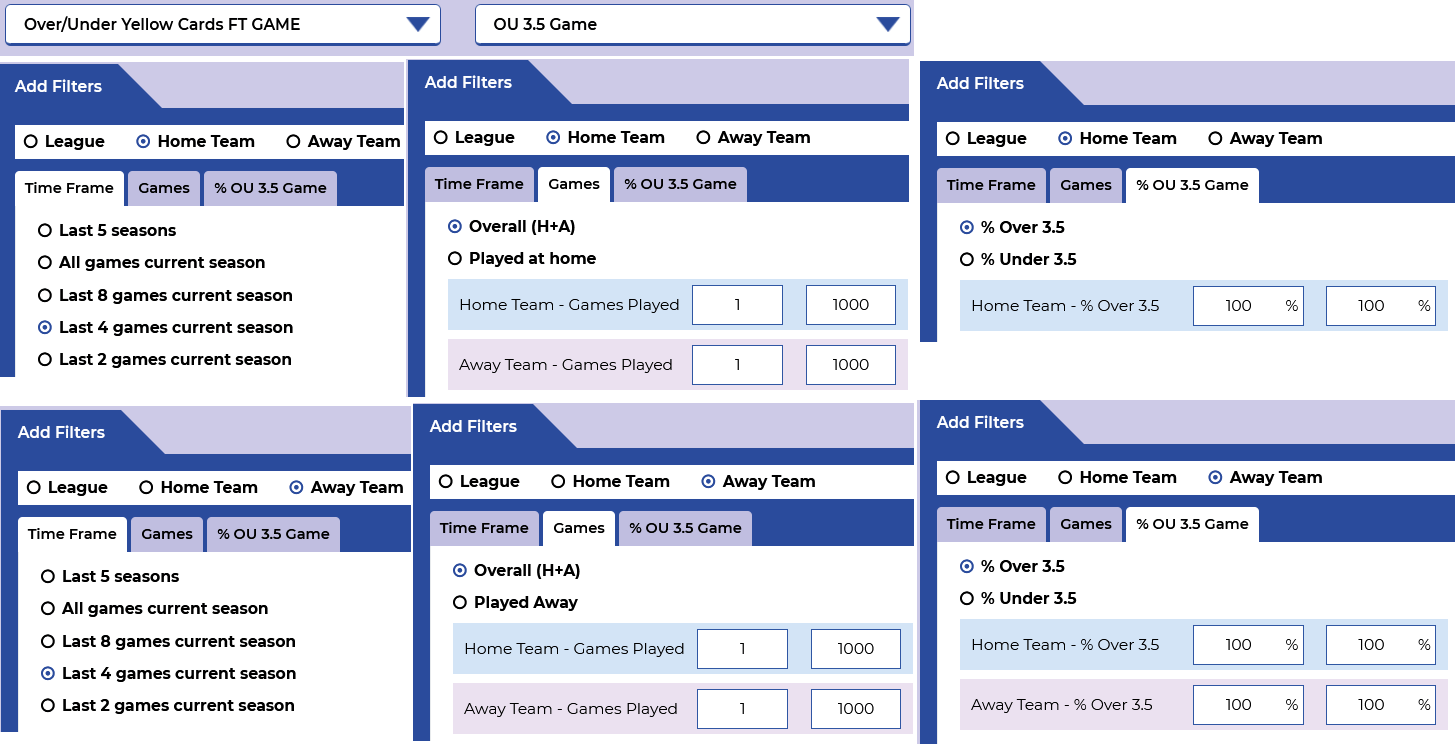 If we click on the away team "% Over 3.5" data column, it re-sorts the table so we see 100%-100%.

Now we can easily see some great opportunities for yellow card betting. These fixtures look likely to have many cards in them based on recent team temperament.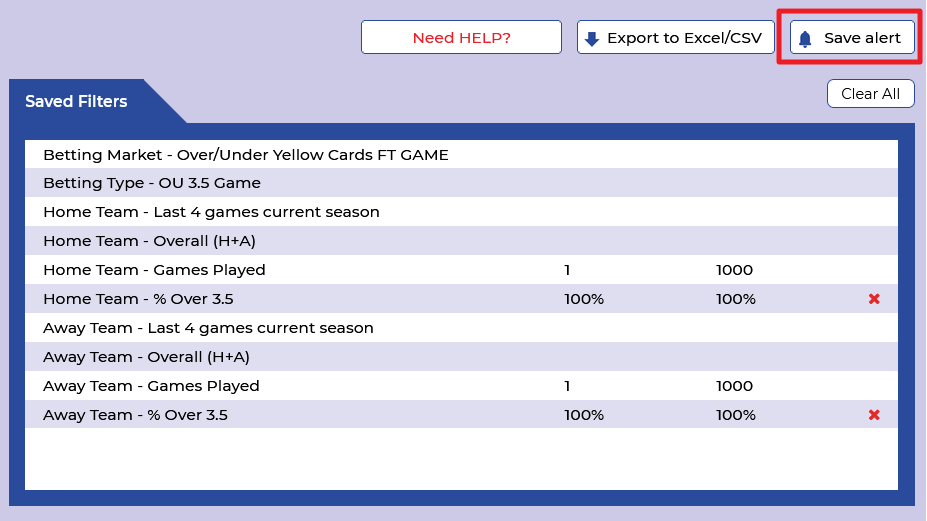 After you have set your filters, you can click Save Alert which will mean that future fixtures that match these settings will be emailed to you. Betlamp allows up to 50 Alerts to be saved, so you can set up multiple alerts with different filters and then select the fixture that appears in the most Alerts and has the highest chances of cards in that fixture.
Betlamp Yellow Card Statistics
 Over/Under 2.5 Yellow Cards FT GAME
Over/Under 3.5 Yellow Cards FT GAME
Over/Under 4.5 Yellow Cards FT GAME
Over/Under 5.5 Yellow Cards FT GAME
Over/Under 0.5 Yellow Cards FT TEAM
Over/Under 1.5 Yellow Cards FT TEAM
Over/Under 2.5 Yellow Cards FT TEAM
Betlamp has statistics for yellow cards received in the whole game by both teams (FT GAME) and also by each team in the whole game (FT TEAM).  On average, most games have 3 or 4 yellow cards in them, so the Over/Under 3.5 Yellow Cards bet can be compared to the Over/Under 2.5 Goals market in terms of often being around the evens mark for odds.
Betaminic Statistics Pages – Charts and Tables
Yellow Card League Charts: With these charts, you can see instantly which teams concede cards and which teams receive cards. Passing and possession teams often concede more cards as the other team gets frustrated and ends up lunging in with poor tackles. Aggressive and undisciplined teams often receive more cards from their style of play. When an overall card receiving team meets an overall card conceding team, we have a good recipe for cards. And of course, when too overall card receiving teams meet, there is a good recipe for cards, too. Hovering the mouse pointer over a bar will display the exact figures.
 
Yellow Card Team Tables: With these daily updated interactive tables, you can easily sort through and find which teams have the highest GAME or TEAM cards over/under figures. You can then check those teams odds on their next fixtures to see if some value is to be had. You can click on the column headers to sort and rank the data. You can also enter filtering figures.

Using the Yellow Cards Data to Bet
There are many ways to use this data. You can bet directly on the Over/Under 3.5 Yellow Cards, etc. markets. It is also possible to be on Total Points markets for cards. The points scoring system varies by bookmaker, but for example 1 yellow card may equal 5 points and 1 red card might equal 10 points, and the bookmaker offers markets for Over/Under 30 points in a match for card betting. The Betlamp statistics can also be used for this, since a fixture with a high probability of yellow cards is also a high probability for disciplinary problems and bookings leading to high card points. Be sure to check how your bookmaker calculates the booking points when you do use this market.
What kind of Betting Markets are available?
Each bookmaker is different. Here is a snapshot from Bet365 who often have a wide variety of card markets.
Number of Cards in Match
– Over/Under 4.5
The evens level equivalent to the over/under 2.5 goals market.
Statistics Page Data: Yellow Card league charts
Betlamp Data: Over/Under 4.5 Yellow Cards FT GAME statistics
Card Handicap
– Home/Tie/Away
Alternative Card Handicap
– Home -2/Tie +2 / Away +2 etc.
Picking which team is likely to get more cards
Adding handicaps to the team cards bet.
Statistics Page Data: Yellow Card team tables Home/Away/Overall
Yellow Card league charts
Betlamp Data: Over/Under 0.5 Yellow Cards FT TEAM
Over/Under 1.5 Yellow Cards FT TEAM
Over/Under 2.5 Yellow Cards FT TEAM
First Card Received
– Home / No card / Away
Picking which team is more likely to get a card first.
Statistics Page Data: Yellow Card team tables Home/Away/Overall
Yellow Card league charts
Betlamp Data: Over/Under 0.5 Yellow Cards FT TEAM
Over/Under 1.5 Yellow Cards FT TEAM
Over/Under 2.5 Yellow Cards FT TEAM
Time of First Card
– before/after 30m
Picking when the first cards will come. High cards expectancy indicates a chance for earlier cards.
Statistics Page Data: Yellow Card league charts
Over/Under 4.5 Yellow Cards FT GAME statistics
Team Cards
-Over/Under 1.5
-Over/Under 2.5
Betting purely on how many cards one of the teams will get. This matches the Betlamp data exactly.
Betlamp Data:
Over/Under 1.5 Yellow Cards FT TEAM
Over/Under 2.5 Yellow Cards FT TEAM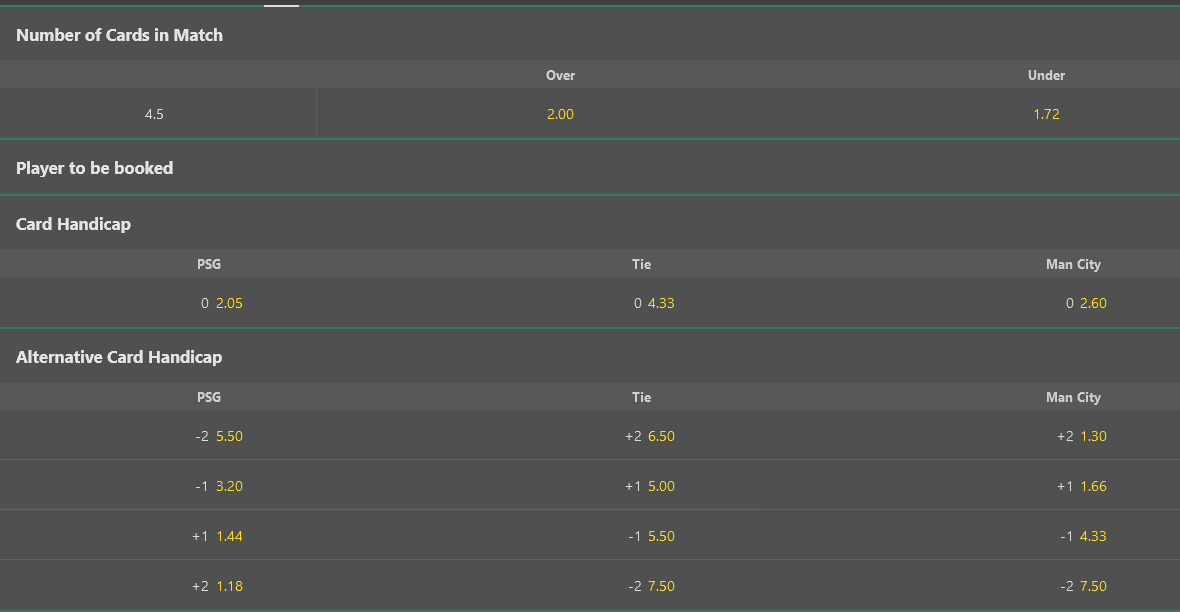 Other factors to consider for Yellow Cards Betting
The Referee – When you are considering your bet. Card betting, more than other football bets, is more affected by the man in black's personality than any other bet.
The Referee's Card Average– Referee's are monitored by the governing bodies by their statistics, and in particular, the number of cards they give out. If they give out more cards or fewer cards than other referees in their league, they may become the focus of the league association or referees association. So they are aware of that when they dish out cards. There are no "card happy" referees who give out 5 cards every game.
The Referee's previous match's number of cards – For the above reason, if a referee gave out too many cards in their last game, some referees may avoid giving out cards in their next game to avoid making their average too high or too low. You can see this effect really clearly on this website that racks MLS referees. https://www.whoscored.com/Regions/233/Tournaments/85/Seasons/6620/Stages/14550/RefereeStatistics/USA-Major-League-Soccer-2017
If you click on each referee's name, you can see how they gave out fewer cards after a flurry, especially after red cards in previous games. If they gave out 5 or more cards in a game, the next game often has just 1 or 2 yellow cards. So when you see a referee gave out 1 or 2 cards in their previous game, and the teams involved in their next game often receive and concede a lot of cards, then the fixture is looking like good value.
Betting on players – After a certain number of cards, a player will be suspended. Some players who are one card away from being suspended may be more careful if an important match is coming up. Also, if the next few games are "easy" games, they might force a card in order to get their ban out of the way. In the English Premier League, if a player gets 10 yellow cards, they are suspended for 2 games. So, If you see a Premier League player with 9 yellow cards and an important match in 3 games time, then they might force a yellow in their next game to get it out of the way.
Team Rivalries – When 2 teams have a passionate history, cards are much more likely. Not just local rivalries (Lazio v Roma, Celtic v Rangers, etc.), but also historical rivalries (Man Utd v Liverpool, Barcelona v Real Madrid, etc.). Form often flies out the window in these games, so card betting becomes a better option. The fans also urge their teams on to fight harder in these games.
 Team Standing – Another factor is the league position. If it is a must win game for a side, then more passionate football and more cards can be likely. Conversely, end of season dead-rubber matches with no meaning will have less cards since players do not want to get injured, especially with the summer transfer window approaching. An injury would wreck their want-a-way transfer hopes.
Put the edge back into your Knowledge
Having better statistics and information than other bettors gives you a major advantage in betting and with Yellow Card betting, Betlamp gives you that extra edge to have a good opportunity for profit. Sign up for free to see a limited version of Betlamp. If you like what you see, get a Premium subscription and enjoy the full benefits of the Betlamp football statistics Alert emails, database and exclusive up-to-date football charts and tables.
Access Betlamp, the amazing free statistics tool here.
Discover 6 free strategies that can be used with Betlamp Football Statstics.
See Corner Betting Strategies: 5 Data Driven Systems for Football
Sign Up for free to access the Betamin Builder here.
Read more Betaminic posts here.